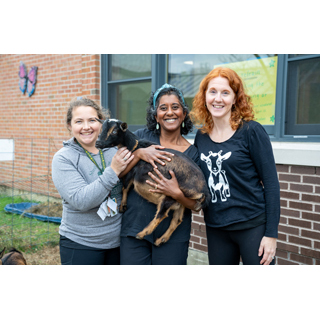 Shelburne Community School
What do cheese, yoga and Shelburne community school all have in common? Goats!
For the last month, SCS has been home to five "exchange" goats from The Village Farm in Shelburne and they have happily taken up residence near the main breezeway of the school - baaa-ing and butting throughout the day as the approximately 100 staff and 700 students make their way from class to the library, gym and cafeteria. There are student "goat ambassadors" on duty for the care and feeding of animals and both kids and adults alike have developed more than a fondness for the furry Farm Creatures.
So, you might ask, what does this have to do with wellness ? Well, how about Joy? There is nothing healthier for us, or more therapeutic than to include some daily Joy in our lives. On this particular "Wellness Wednesday", teachers and staff participated in a little after school "goat mindfulness." It didn't take much convincing, according to building wellness leader Megan Maynard. "You kind of just see everyone smiling when they pass by," she said. "It just brings happiness." Other wellness activities that day included pickle ball, walking, coloring and reading, but hanging with the goats was definitely the most popular!
Planning room coordinator Jess Howard and 5th/6th grade math teacher Vasanthi Meyette, were responsible for starting the goat exchange program with nearby The Village farm. The first year, Howard wrote a grant and this year the PTO funded the program. The arrangement with Village Farm is expected to continue every Spring and Fall moving forward.
Of course, the program is also about the kids and, every class, from pre-k to 8the grade has interacted with the goats. There have been dance parties, story time, goat anatomy lessons and music class. Devon Morrill, who teaches 5th/6th grade science alongside Meyette, explains, "Sometimes we take for granted living in Vermont that everyone has an outdoor experience. It's not always the case for all of our students and all of our adults , though." She goes on to say that the goats provide that opportunity and gives everyone the access that they may otherwise not have.
It doesn't always take a big event, or a rich dessert, or summiting a Mountain to bring us joy. Sometimes, it is simply a few goats. For Shelburne community school, the program has turned out to be the Greatest Of All Time.