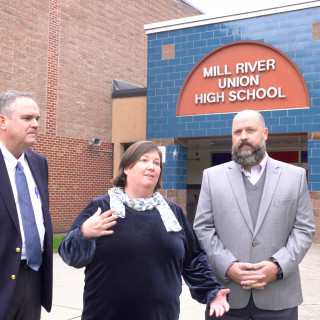 Mill River Union High School
Mill River Unified Union School District (MRUUSD) has had a long history of being a wellness focused village. The champion and building wellness leaders there have been well on board for decades and the central office has added even more teeth to the programming. In recent years, the SD offers an amazing, forward thinking benefit: employees can exchange personal leave days for wellness activity reimbursements. If an employee doesn't often use their leave, they can turn it into a subsidy for gym memberships, state park passes, or yoga class, for example. That's making wellness much more affordable for so many. That's great economics for everyone.
To make it even more exciting, people like 2022 Vermont Teacher of the Year, Karen McCalla, and her fellow wellness leaders, help provide access to a variety of activities and a culture that is supportive. Obviously Karen is "Ammaahhhzing!" but that word still doesn't cut it. She isn't just a superhero for her students, she's a Rockstar for her co-workers and everyone around her rises to that caliber in order to stay in stride.
Well done Mill River UHS! We're so proud to call you our long-time friends and colleagues. ICYMI, watch the video for proof...