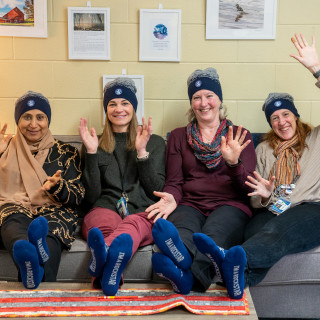 Founders Memorial School
Founders Memorial School in Essex has always been a remarkable place to work. They've had a long history of great wellness leaders and people who exemplify perseverence. Students, families, and the commuity all benefit from this close-knit group of poeple who work their tails off every day of the year in the name of public education.
Rosemarie (Roe) McMahon helps spearhead a team of remarkable, upeat staff wellness people who love to speard healthy tips and tricks. They bolster their colleagues with monthly events which included, for example, a masion jar salad tutorial (how awesome to have lunch at your fingertips, to learn something new, and to know it's good for you as well as tastey and fun? So great).
Roe and her amazing team also spent their own free time upgrading the staff lounge which is now a sacred and fabulous place to decompress after difficult interactions with students, a place to problem solve out of the fray, and a place to recapture your composure. People quietly did report cards there, ate lunch, did quick cech-ins with ill family members, tackled a to-do list item that was nagging them, and so much more in this welcome space for taking a break, and catching your breath. Oh, and as a bonus, they even seriously spiffed up the staff bathroom. We can't tell you how many people were grateful for that lovely, yet seemingly simple gesture. It went a long way.
Take a look at the hard working folks of Founders in the atttached video and slide show. These people make it all look so easy! (Oh, and what's the secret sauce? Each other. Simple as that. The people, the apprectiation, and the simple things).