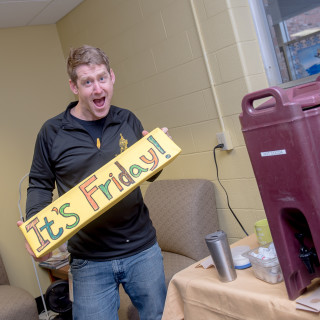 Alex Rawson
Harwood Union High School
Alex Rawson, a Harwood Union High School science instructor, was sitting quietly in the staff room sipping coffee when we arrived. It was Friday - Rawson's day to arrive early and make the coffee for the staff. "I was thinking about how to make our school community a bit more social and at the same time to address our social emotional well-being," he said. "Coffee Fridays seemed like a natural fit. It's a way to complement wellness in a comfortable and quiet way."
According to Chelsea Turley, a colleague who nominated Rawson as a Thriving Rock Star this year, Alex is working hard to expand their school community connections. "Alex is always there to say good morning and chat with folks who pop in. It's a way to get our Fridays off to a good start and many of us look forward to this simple way of connecting with each other once a week," she said.
While we were in the room, several people stopped in for a quick conversation and for coffee. According to one of the music instructors, Coffee Fridays have helped her connect more frequently with others. Another staff member said that Coffee Fridays force her to slow her pace down a bit. Another staff member distributed several emotional wellness oriented books and invited folks to take any they would like. When we asked folks in the room to describe Alex using three words that began with the letter "a," they responded with "awesome, amazing and aspirational".
Rawson's history as an educator has taken him to a variety of continents. "I taught in Istanbul, Turkey and then in Basel, Switzerland," he said. "Two of our three children were born in Switzerland. My wife and I then chose to return to the US to raise our family and I was hired as a teacher in Massachusetts." Ultimately they decided to venture farther north. "We are really outdoorsy people and we are very social," Rawson said. "We thought Vermont would give us all of what we were looking for and it has."
Rawson's interdisciplinary interests and abilities in art, science, music and technology are fully visible in his classroom, on the school's walls and windows, during school assemblies and with his family members. Presently a physics and earth and space science instructor, Rawson recently acquired some beautifully science inspired photographs that are now hanging up in the hallways.
Last year when the school lost power, Rawson took advantage of the natural light and the school's windows to post multiple mathematical equations with his students. And as a way to engage everyone in honoring the work of several scientists, he re-wrote the words from the Moana song, You're Welcome, added slides and sang his revised composition on stage last year at an all school assembly.
In one of his classes Rawson requires the students design their own musical instruments. "Before this could come to fruition, however, I had to take a woodworking class and become certified in how to ensure safe practices among the students," he said.
At home, once a week with his wife and three children, (8, 5 and 3) they have what he calls "dinner musifications". Essentially what I do is share different musical genres through a variety of albums that I've downloaded to my laptop. My children have a chance to pick what kind of music they might wish to hear based not only on the music but also on the fun album covers they can choose between."