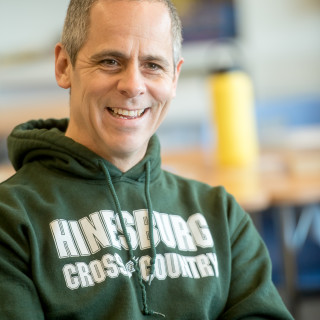 Paul Lasher
Hinesburg Community School
"Paul Lasher, Hinesburg Community School's fifth grade teacher, is an inspiration to his students, colleagues, his family and his friends," said Alyssa Lasher, his colleague and his wife. "I am passionate about doing all I can to get young people involved in fitness, which is all the more challenging with the attraction and access to social media," Paul Lasher said.
"Every year I organize the Penguin Plunge. This year, 33 fifth through eighth grade students each raised the money ($150) to participate," he said. "And after several years of serving as the school's soccer coach, I recently switched to coaching the cross-country running team and this spring we will have a track team. I discovered I appreciate the camaraderie around these sports much more; several students can participate and everyone can strive for their own personal best."
Lasher is a committed outdoor athlete, no matter the season. "Getting on my fat bike and running are my stress relievers," he said. Lasher's focus on outdoor sports first kicked in when he attended Colchester High School and became part of the Nordic ski team, then coached by Leigh Mallory. "He is the person who taught me about lifetime fitness and he became my mentor," Lasher said.
Lasher's interests in competitions remain strong. After high school, he raced for the St. Michael's College's Nordic ski team before transferring to the University of Vermont. For the past several years, he has dedicated extensive time to cycling and running. "I've done 10 marathons and ran Boston's marathon in the disastrous weather two years ago," he said. "Last October at the Hartford Marathon, I once again qualified for the Boston Marathon." Before this event takes place, however, he is registered to run the Vermont City Marathon and compete in the Lake Placid Ironman. After a harrowing collision with a vehicle which caused him a significant period of recovery and destroyed his brand new bicycle seven years ago, Lasher is much more likely to opt for cycling on trails and dirt roads. "There are too many distracted drivers on the roads now," he said.
Lasher doesn't have to go far to catch up with his family members during the week. Alyssa teaches the kindergarten students. Eli and Brody, their sons, are students at the school. "Our relationship really began over oranges," Alyssa said. "Paul wanted to spend time learning more about the kindergarten students when he could and after they became more familiar with him, they asked him for help in peeling their oranges. "That was tough work and as a fun way of thanking Alyssa for all the work I had to do for her students that day, I gifted her with a bag of oranges," he said smiling. "And what did she do? Gifted me with freshly squeezed orange juice made from those oranges."
"Paul uses his drive and his perseverance to encourage his students," said Alyssa."He inspires his runners to push themselves showing that if the old guy can run it, they can too. Paul inspires me as his wife and colleague. He has helped me create a workout program so I can slowly gain some fitness back. It can be as simple as "do something for twenty minutes" or "do something today". And on most nights he prepares a healthy and flavorful meal for our family."
"He inspires our sons as they have witnessed him sweating, struggling and pushing through many physical challenges," she continued. "Many times, Paul and our sons will take an evening trail run through the fields near our house or run a mile loop around the neighborhood. In the summers we host Mountain Mondays, where we invite our sons and their friends to join us on hiking a variety of Vermont's mountains."