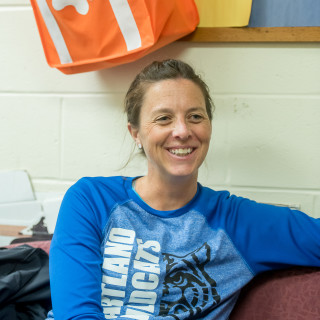 Angela Carpenter-Henderson
Hartland Elementary School
Angela Carpenter-Henderson, Hartland Elementary School's K-5 physical education/health teacher, is on fire. Her passion for wanting everyone to live a healthier life is front and center with everything she does. "Angie's positivity is contagious," said Theresa Symancyk. "We can always count on a kind word and a big smile when we see Angie in the hall. She does things like write happy messages on teachers' message boards. She inspires me because she always sees the positive in children and situations. You can't be sad around Angie because her happiness vibes are so catchy."
One can find Carpenter-Henderson's fingerprints throughout the school. Prominently displayed in her office is the smoothie bicycle she and the students won for their participation in the Fuel Up and Play 60 program. Outside on the property is the new solar tracker they won in the Way to Go competition because nearly 100% of the school participated in the Walk to School Day she organized. A Hart box, invented by her 4th and 5th grade students, is available to everyone who would like to write a kind message about anyone else in the school. Each year Carpenter-Henderson organizes the staff-student basketball game which is played the day before Thanksgiving break in memory of the town's former recreation department director.
Carpenter-Henderson is the facilitator for the district's Coordinated School Health team. She is the co-chair of the grievance committee and a member of the Leader in Me committee, which focuses on instilling positive life skills in the students. "I am doing my best to encourage students and their families to choose healthier food options," she said. "We are putting new polices around food in place and we recently received funds from Rise VT for a Swap It campaign to replace less healthy snack options with healthier snacks."
Carpenter-Henderson is no stranger to teaching. "I spent five years as a physical education teacher in Fairfield, VT and then worked at Barre Town School before coming home to my roots," she said. "I am a parent of two young boys (a two year old and a six year old) and our family lives on 55 acres. This past year I took up hunting with my dad. I like to garden, hike and swim with my family and a year ago I began making leather jewelry." And in honor of her grandparents, she and her extended family participated in a walk earlier this year to raise awareness about and funding for Alzheimer's disease research.
"Angie is our biggest cheerleader and often reminds us of what a great school we have," said Symancyk. "Our school is a much better place because of her. She builds many positive relationships with her students and staff and can sift out naming issues that need correction and has a knack for doing so in a kind way."