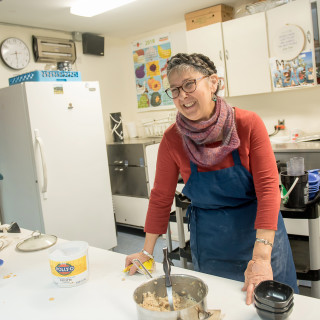 Alison Forrest
Brewster Pierce Elementary School
Alison Forrest, Brewster Pierce School's Director of Food Service and Production, a.k.a. chef extraordinaire, has been sharing her expertise and passion for preparing and serving healthy foods to students, staff, the community and to food service personnel across the state for the past 31 years. "I arrived in Vermont at 17 to attend UVM and brought my West Coast knowledge of healthier food options with me," Forrest said. "I grew up in the late 60's and was exposed to whole grains and worked in food co-ops. Though I ultimately finished my Biological Science degree at UC Davis, I returned to Vermont and shortly thereafter became the head ice cream maker at Ben and Jerry's first location (the garage). Following that position, I worked at the Daily Bread (a former Richmond restaurant) and the Onion River Food Co-op, then situated in Burlington's Old North End. It was there I realized what I really wanted to do was work with children."
"Before being hired as Brewster-Pierce's Food Service Director, I volunteered to do art enrichment activities with the students as I love working with my hands," she said. When Forrest first worked at the school, there were 157 students in grades K-4, a half time principal and many less staff, " she said. "The USDA food we received was far from fresh and had been poorly stored in warehouses. The food we receive now is much better and thanks in part to Michael Pollan, (an author), the Northeast Organic Farming Association (NOFA) and FEED, the community's awareness about healthier foods is much greater."
"In 1987, I prepared spinach lasagna one day. I think it took everyone five years to recover from that, "she said laughing. "After that I began adding flax seeds to the breakfast cereal and doing different food taste tests with the students. I wanted to increase the number of students eating the school meals and determined if they knew more, they would be inclined to eat here. I also recognized the best way to make sure our food program was sustainable and would fully support our staff was by purchasing local food from the farmers, preparing healthy meals and promoting our reputation in the community. As a result, many staff and community members have over the years continued to purchase our meals and we are well-supported."
According to Sally Hayes, Brewster-Pierce's principal, Alison grows garlic, kale and many other vegetables in our garden. "These are harvested and eaten at school. She mentors her kitchen staff and over 40 volunteers to recognize the importance of healthy foods for every child and the connection between eating healthy and brain readiness. Alison makes homemade soups and bread every Friday and teaches children about nutritional ingredients. She makes sure that every child, regardless of ability to pay, is well fed. "Many children comment when they leave that the Brewster Pierce school lunch is the most delicious," said Hayes.
When we met, Forrest shared photos of some of her special food celebrations. "I do my best to find out what some well-known authors' favorite foods are and prepare these meals on the author's birthdays," she said. "I have served Kareem Abdul-Jabbar's, J.R.R. Tolkien's and Louis Sachar's favorites and we celebrate the Day of the Dead with bones and skulls. The students harvest dandelion leaves in the spring so we can eat them. Over the years I've taught several children how to braid bread and this is the first place they probably ever ate crickets when I served them on pizza."
Outside of the school day, Forrest has many other ongoing projects and interests. "When my son was young, our family did French Indian reenactments," Forrest said. "I made our clothes and became quite good at cooking over a fire. Alas, they won't let me do that at school." Forrest has a weaving studio and offers after-school weaving classes one day a week. She is an avid dancer and currently serves as the Chaplin of the Central Vermont Grange where she has been participating in the monthly contra dances since the 1980's. For over 30 years, Forrest has served as the volunteer head cook at Camp Exclamation Point, a one week camp held at Camp Farnsworth, to provide a camping experience to 120 Vermont youth who would not be able to afford it otherwise. "We move in 6000 pounds of food for the week," she said. And for ten years, she oversaw the local Meals on Wheels program out of the school's kitchen.
"Recently, I have become much more intentional about walking especially since social media has become much more a part of everyone's life," she said. "We live in a beautiful community, where one can walk to the river, to a sugar house and to a farm. I am smitten with train travel and seeing how beautiful our country is. And someday in the future, I would like to live in a place where I can walk to everything," Forrest said. Until that time, Forrest will, as Hayes says, continue to set the bar high and live up to her standards every single day. "She is the epitome of a wellness rock star."