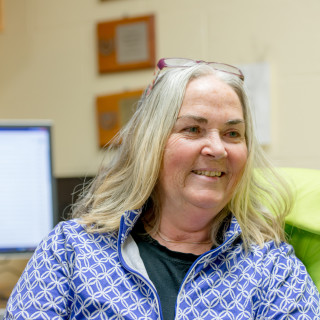 Sandy Cahill
Essex High School
Though finding Sandy Cahill, one of Essex High's physical education teachers, was a bit daunting and involved searching multiple rooms with security personnel, we knew we had struck rock star gold when we located her in the basement of the complex. "I could have retired years ago but I can't because there is always something new and exciting to wrap my head around," Cahill said. "I don't think of this as a job; it's a challenge and I like that." Right now she is very wound up about the increased focus on personalized learning plans. "All this new fun stuff is happening and my energy has never faltered in 39 years at this school. I can't sit still."
According to Marianna Botvin, one of the school's nurses, Cahill stands out as a wellness rock star because of her commitment to ensure students of all abilities have positive movement and physical education experiences. "She makes miracles happen," said Botvin. Cahill is a staunch advocate in believing that all human beings can move. "There is no cookie cutter approach," she said. Her motto is "Be where you are now." "I believe everyone is physical able – it is simply a matter of creating an environment where one's ableness can be demonstrated," said Cahill.
Well versed in adaptive physical education practices Cahill offers individualized physical education programs for a variety of high school students including students who have had earlier adverse experiences with physical education, students on 504 plans needing to find ways to earn physical education credits and students with special needs. She works hand in hand with physical therapists, special educators and counselors to assure student success and presently oversees a wheelchair yoga course.
Cahill become invested in learning about adaptive physical education 25 years ago. "I had no resources when I began focusing on adaptive physical education but eventually I learned more and became involved with Special Olympics," she said. She is also an avid proponent of what she describes as disguised learning; engaging students apprehensive about physical education as peer helpers for other students in physical education classes.
Cahill's passion to make sure everyone has movement in their lives doesn't stop there. "I offer off campus physical education experiences for the Center for Technology students, partnering with local fitness centers, climbing centers, golf courses and bowling alleys and I assist cosmetology students in learning how to best care for their backs," she said. She is presently implementing a wellness mini-grant for self-protection classes open to all students. And when the work day is over, before Cahill heads back to her home in Stowe, she visits with her mom, who is 99 and lives nearby.
Cahill's own fitness routine is multifaceted. She walks her dog, practices yoga, paddle boards and in the summer combines yoga with paddle boarding. She works with Vermont's Adaptive Ski Program at the Stowe Mountain Resort and provides private ski instruction to youth using a variety of techniques to engage them in finding joy and pleasure on the mountain.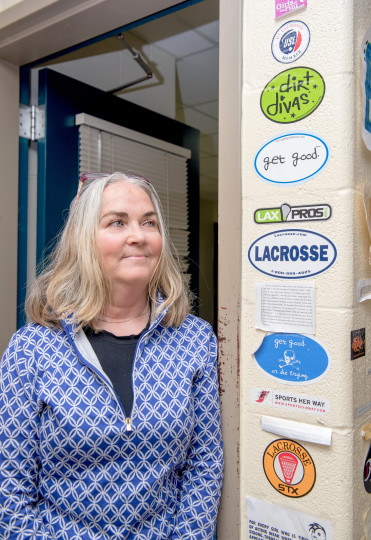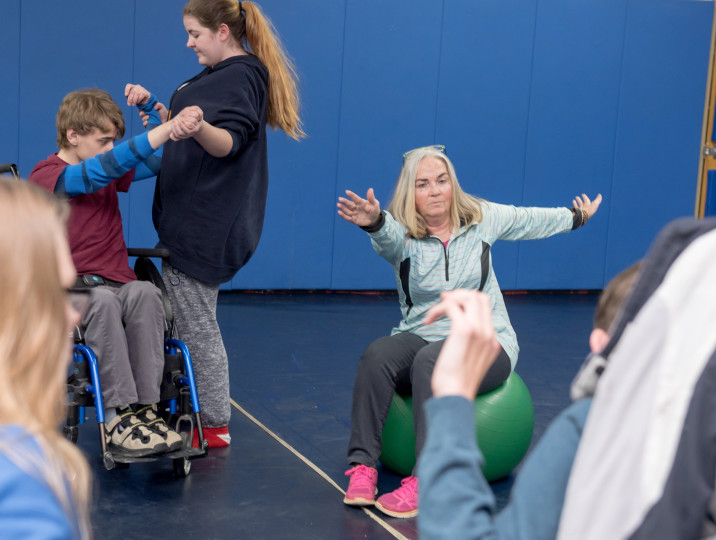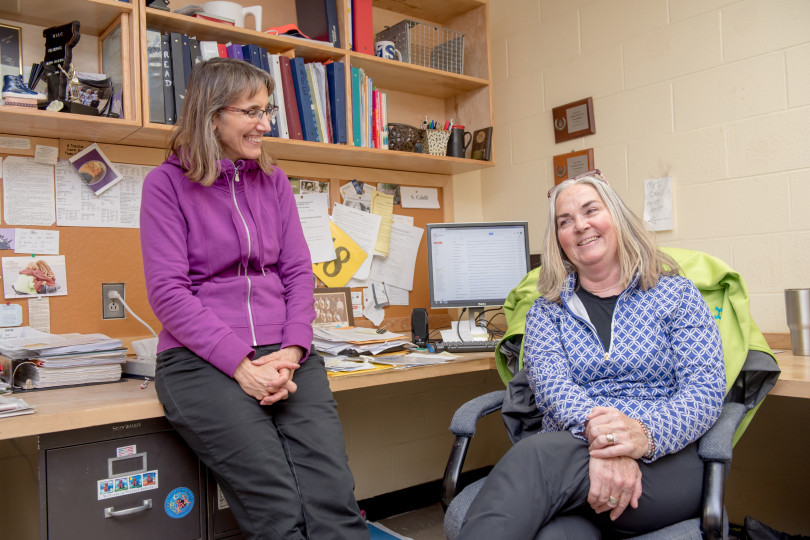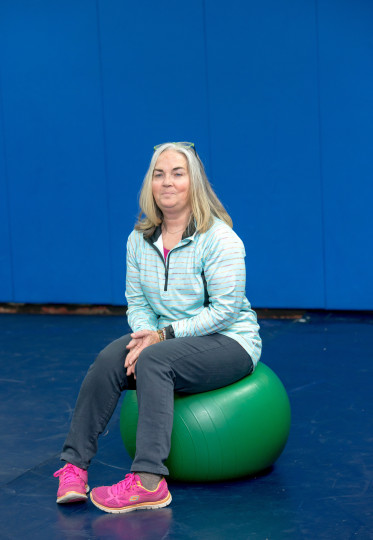 More 2016 - 2017 Rockstars